3D scanning of container ship's engine room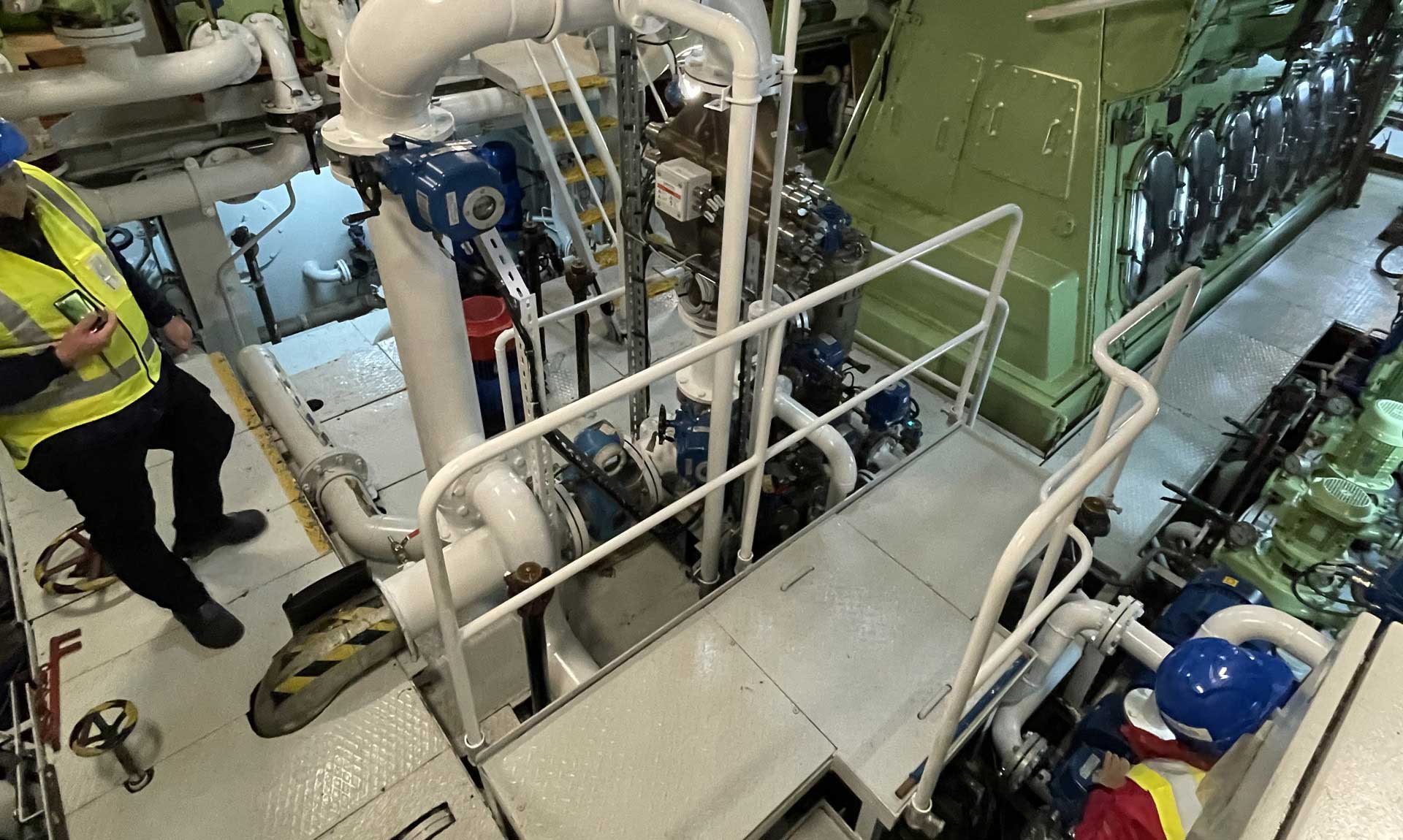 When time is of the essence with an engineering job, 3D scanning can be utilized to maximum advantage. Diverse Engineering recently undertook an unusual project involving pipe work for a container ship that needed to meet compliance with new regulations relating to the treatment of ballast water. Ballast water exchanges are traditionally performed in international waters, but in order to reduce the carrying of unwanted organisms from one part of the world to another, ships are now required to undertake UV treatment of such water to ensure that any bacteria is unviable on discharge.
Ballast water systems are required to use a fine filter when water is taken onboard and a UV light treatment that renders bacteria non-sustainable when the water is later pumped overboard.
The ship in question was due to arrive in New Zealand on a 14-day turnaround, with just a day or so in Auckland, and needed to have the new system installed. To produce the piping requires more than 14 days (galvanizing alone takes over a week) meaning that around 300m of custom-designed pipe work had to be ready and waiting on arrival next time she docked.
Her sister ship had already had her piping renewed in China, and was available for inspection. Both the engine rooms and areas above and below the floor plates on both ships were 3D scanned – a process that takes about an hour – using the latest equipment, as was the new unit. In partnership with Marine Industrial Design, with whom Diverse collaborates on drawings, detailed plans for the new pipe runs, elbows and angles were produced from the 3D scans.
Initially, the project was to have involved Diverse in the installation of the new piping, but an unexpected change in scheduling meant that the ship went into dry dock in China rather than Auckland. Diverse was able to supply all the drawings from the 3D scans to the Chinese shipyard, which manufactured and fitted the system up there.
Diverse expects to do similar jobs in the future, when required. As most container ships are generally only in port for 24 hours, there's only one day every few weeks when an engineering company in a specific port can have access to them. The ability to 3D scan remotely means that parts can be manufactured in advance with key areas being left unwelded, allowing for fine adjustments on site. In this case, the client was delighted with the outcome, which was completed with maximum efficiency, on time and on budget, despite the last-minute change to the ship's route.